h2
Veterinarians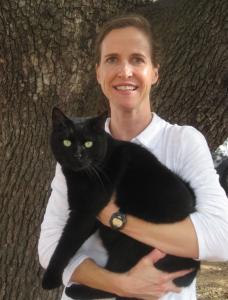 Dr. Nancy Christensen
Dr. Nancy Christensen, a native Houstonian and graduate of Lamar High School, completed her undergraduate degree at Tulane University. Ties to Houston brought her back to the city where she pursued her dream of becoming a veterinarian. Dr. Christensen completed her DVM from Texas A&M College of Veterinary Medicine in 2003. Dr. Christensen has a long history with the Cat Veterinary Clinic. As a child, she and her mother would bring their family cats to see Dr. Pennings, the original owner of the clinic. Later on, she worked as a full-time vet technician for Dr. Runté at the clinic and got to know many of the patients who would eventually become her patients as a veterinarian. Dr. Christensen loves the relationship she builds with her patients and their owners.

Dr. Christensen is a member of the American Association of Feline Practitioners, American Veterinary Medical Association, Texas Veterinary Medical Association, and Harris County Veterinary Medical Association.

Dr. Christensen and her husband have a daughter, two sons, and a houseful of animals. The family enjoys outdoor adventures and often walk or bike together. Dr. C loves to throw baseballs with her sons and going on runs with her daughter. In her rare moments of quiet time, she enjoys early morning devotion time with a warm cup of coffee.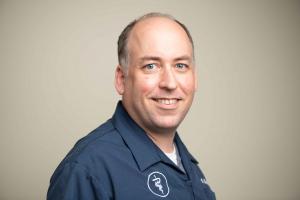 Dr. Matthew Filip
After seven years of school in College Station, Dr. Matthew Filip returned to his hometown in 2003 with a doctorate degree from Texas A&M College of Veterinary Medicine. His decision to focus specifically on cats was largely influenced by his admiration for feline vets involved in his training. Ever since he has never regretted the decision to work in a small clinic far away from the howling of beagles and teeth of chihuahuas.
With his focus narrowed to one species, he has been able to explore an interest in what he considers the most common problems affecting cats, especially dentistry and dietary management. He hopes that before he retires, he will see a decline in the incidence of the leading illness affecting older cats - chronic progressive kidney dysfunction - and believes that proper preventative care and dentistry will accomplish that goal.

Dr. Filip resides in nearby Timbergrove with his wife Amanda, his daughter Anna, his sons William and James, their dog and two cats. He enjoys cooking vegetarian meals, reading on his Kindle, and playing strategy-based board and card games.

Dr. Meghan Tibbs
Dr. Meghan Tibbs was born and raised in central Illinois. After completing her bachelor's degree at Eastern Illinois University, she headed to the sunshine state where she received her veterinary degree from the University of Florida. She has furthered her training by becoming certified in small animal acupuncture through the Chi Institute of Traditional Chinese Veterinary Medicine.
Dr. Tibbs is a member of the American Association of Feline Practitioners and the American Veterinary Medical Association. Her favorite aspect of feline patient care is finding a good balance between the family and their pet by discovering ways to keep medication to a minimum, while still providing a good quality of life. She feels it's important to manage chronic diseases with as little stress as possible.
When Dr. Tibbs is not at the Cat Veterinary Clinic caring for her patients, she is spending her time with her own cats: Peanut, Jelly and Mojo. She also enjoys yoga, the beach, antiquing, traveling, and going to see live music.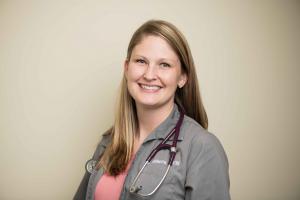 Dr. Erin Wilkens
Dr. Erin Wilkens was born and raised in Marshall, a small town in Northeast Texas. She went to undergraduate school at the University of Texas at Tyler where she graduated with a Bachelor's degree in Biology. After graduation, she was employed by 2 different wineries before pursuing a career in veterinary medicine. She longed for a more challenging and satisfying career and had always kept the thought of becoming a veterinarian in the back of her mind. Upon starting vet school at Texas A&M, she discovered a love for working with cats. Growing up she had always enjoyed having cats as pets, but now she saw them on a whole new level. She noticed, when compared to dogs, cats were often misunderstood and the treatment options were more limited. She decided she wanted to become more knowledgeable about cats so she could share that knowledge with other cat owners.
Dr. Wilkens is a member of the American Association of Feline Practitioners, American Veterinary Medical Association, and Texas Veterinary Medical Association. She enjoys educating clients on common diseases and internal medicine cases.
Outside of the Cat Clinic, Dr. Wilkens loves to garden, refinish old furniture, and visit Texas wineries. Dr. Wilkens and her husband Kevin have 4 wonderful fur babies at home - a dog named Sherlock, and 3 cats Po, Heidi, and Choco - as well as two beautiful children.
Dr. Amber Nava
Dr. Oscar Ramirez

DVM, DACVR
Dr. Ramirez is a board certified radiologist who visits our clinic twice weekly for ultrasound procedures. He enjoys hot chocolate and discussing current events.
Hospital Manager
Rosie
A native Houstonian, Rosie has been a member of the Cat Vet Clinic team since 2009. As the Hospital Manager of CVC, Rosie is responsible for maintaining the constant evolution of the clinic, as well as encouraging the staff to grow as professionals and individuals. Rosie spends her free time planning her next international travels, reading, maintaining her vegetable and herb gardens, and seeking out the latest in local craft beers and robust coffees. Rosie has one dog (Saoirse), three cats (Cotton, Skip and Riley), and two bearded dragons (Shandrel and Lilith) at home, as well as a husband and teenage daughter.
Licensed Veterinary Technicians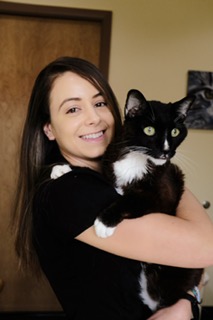 Christie, LVT
Christie graduated from the Vet Tech Institute of Houston and has been part of the CVC family since 2013. Her previous work at an emergency veterinary hospital makes her experience a great asset for our busy clinic. When not working, Christie spends time hanging out with her two cats and dog: Bobby, Dexter and Murray. She also enjoys trying out new, healthy recipes, and attending live music shows with her boyfriend.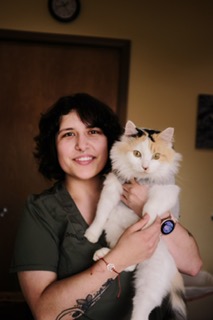 Christina, LVT
Christina is from Bay City, TX and a recent graduate of the Vet Tech Institute of Houston. She completed her externship at the CVC and has been a member of the team since 2018. Christina is owned by her three cats: Pumpkin, Turbo, and Diana. When she has the time, Christina enjoys improving her art skills and developing new pieces with watercolors, pencils, and charcoal.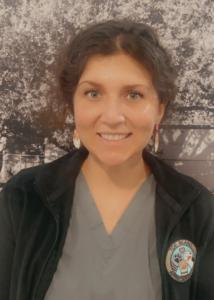 Taylor, LVT
Since childhood Taylor has always loved being surrounded by animals of all kinds, and has chosen the CVC to be the next step in her veterinary technician career! She joined our team in 2020 and has been dedicated to the care and comfort of our patients.
Taylor shares her life with one human daughter, as well as her two dogs and two cats. In her limited spare time Taylor enjoys caring for her houseplants, improving her crochet skills, and treasure hunting at thrift stores.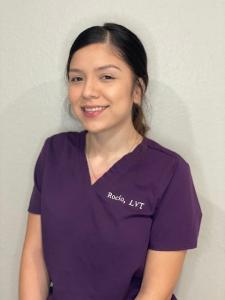 Rocio, LVT
Rocio graduated from the Vet Tech Institute of Houston in 2015 and quickly realized that cats have a special place in her heart. This epiphany is what brought her to the Cat Vet Clinic in 2019. Rocio enjoys traveling, spending time outdoors, and Mexican food; in her free time she manages a small crafting business from home.
Mariel, LVT
Veterinary Technicians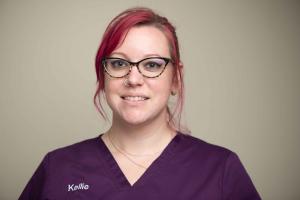 Kellie
Kellie has been in the veterinary field since 2000 and completed a Veterinary Paramedic program through HCC in 2005. She joined the CVC team in 2008 and has been an integral part of the growth and development of the clinic. She spends her free time in performing arts and costume design as well as archery, rollerblading and cycling. Kellie shares her home with her two cats Deadlie Nedlie and Joxer.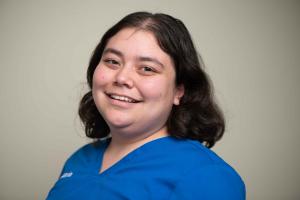 Alexia
Alexia joined the CVC team in 2016 and is our resident bottle-baby expert with an extensive background in the Houston animal rescue field. When not at the clinic, Alexia shares her home with her 6 cats. In her remaining spare time, Alexia enjoys playing basketball and watching the Astros win!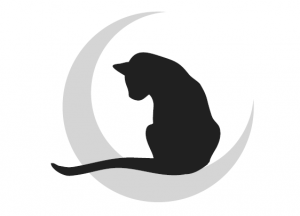 Cecilia
Sonya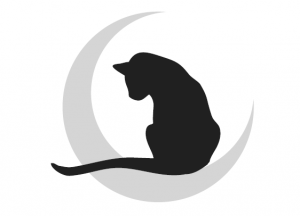 Frida
Client Service Representatives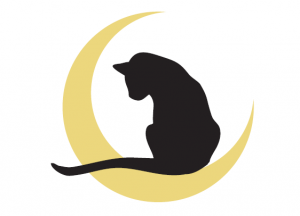 Gabrielle
Gabrielle has been a veterinary receptionist for several years and joined our team in early 2020. Gabrielle's favorite color is hunter green and she enjoys classical mythology and breakfast foods (but not for breakfast).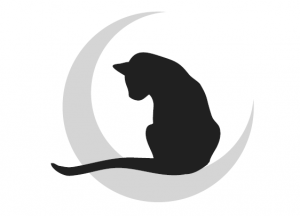 Carmen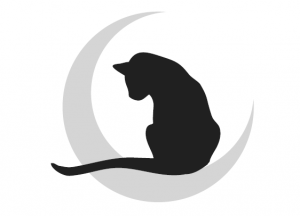 Alexis
Additional Team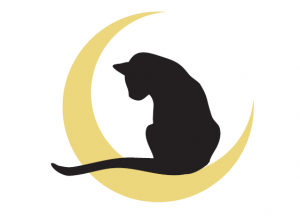 Abigail
Abigail joined our team in early 2020 and has been an integral part of keeping our facilities in top shape! She shares her home with her 3 cats, Peanut, Precious and Oreo, and loves cooking delicious foods and spending time with family.