h2
Cat Veterinary Clinic Radiology and Ultrasound
Cat Veterinary Clinic offers advanced, high-quality veterinary care for cats in our exclusively feline-only practice. We strongly believe in offering personalized and affordable medical care for all of our patients. We use advanced diagnostic technology and equipment to provide fast and efficient diagnosis and treatment when your cat needs it.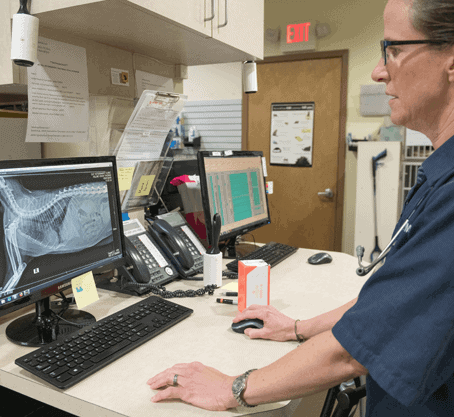 At Cat Veterinary Clinic, we use digital radiograph (x-ray) images to obtain an enhanced view of your cat's internal cavity. Digital x-rays are non-invasive and painless. The images are processed quickly in our in-house lab which allows our team to provide rapid diagnosis and treatment to help your cat get better faster. Digital x-rays are used to diagnose a variety of medical conditions in your cat's heart, lungs, abdomen, bones, and reproductive/urinary systems.
Kidney/Liver disease

Orthopedic Concerns

Tumors

Bladder stones

Chronic arthritis

Gastrointestinal obstruction
Digital dental x-rays are also included on all Cat Veterinary Clinic dentistry procedures.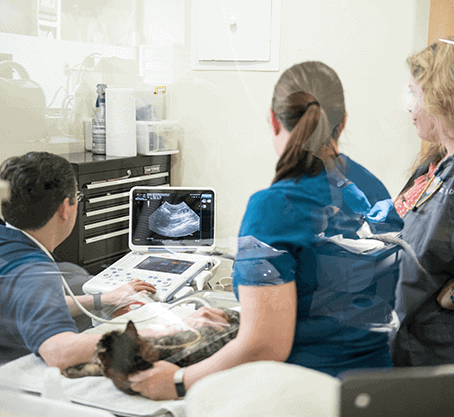 Ultrasound is a safe, non-invasive, pain-free medical imaging technology that provides a clear picture of your cat's internal organs. Ultrasound images are produced by sound waves. Ultrasonography is an effective diagnostic tool that helps identify abdominal obstruction or tumors, assess gastrointestinal function, and evaluate heart function. Ultrasounds can also diagnose bladder stones and urinary inflammation.
Cat Veterinary Clinic partners with a board-certified veterinary radiologist to offer ultrasound services in our clinic twice a week.
To learn more about Cat Veterinary Clinic radiology and ultrasound diagnostic services,